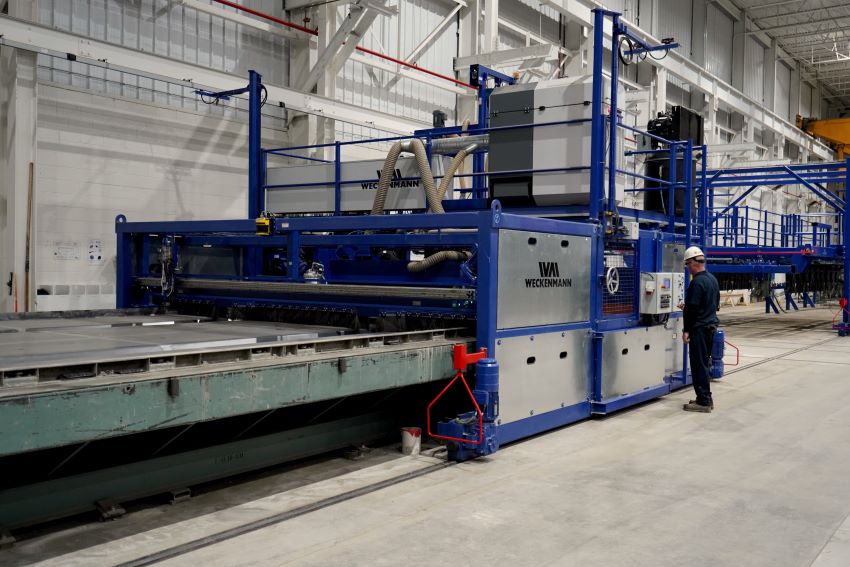 Afinitas is the exclusive North American distributor of innovative Weckenmann Anlagentechnik machines and systems for precast concrete manufacturing. The equipment is designed and manufactured in Weckenmann's state-of-the-art facilities in Dormettingen, Germany. With Weckenmann automated systems, precast producers are able to increase productivity, improve safety conditions, reduce consumption, increase precision and maximize output, without adding labor.
Weckenmann Systems Key Advantages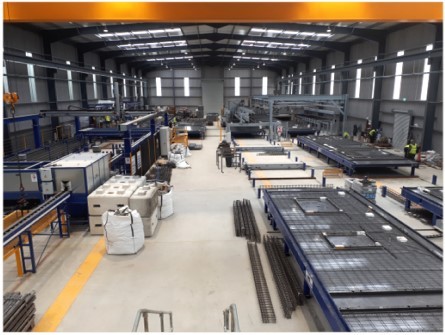 Play Video
Learn why Molin chose Weckenmann's circulation system
"A typical precast production plant of this capacity would require 48 workers. Our new plant will need just 14 to 18 workers. The whole production process is computer-controlled. This means higher quality, more consistent products and fast product availability. And this certainly pays off."

John Sacconman

Molin Concrete Products Company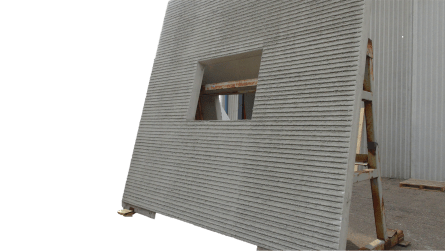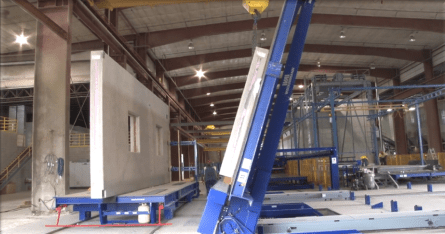 The Benefits of a Weckenmann Circulation Line

A clear advantage of the circulation line plant layout is that the work comes to the worker avoiding unnecessary steps and allowing you to have dedicated team member at each station. In addition, with circulation lines there is a lot of flexibility. The system can start with basic technology, and Weckenmann 's design makes it very simple to upgrade. Another benefit of the circulation system is that temperature and light can be controlled, improving worker comfort. Further, because materials are always within reach there is less chance of  potential safety or health risks. Efficiency is another area where circulation lines excel. With the Weckenmann system you will have a targeted material flow, so you always know how product is flowing in and out. Plus there are dedicated storage areas built into the flow. You will also realize energy savings with features like the insulated curing chamber that is a controlled environment where you can manage temperature and humidity. Further, the circulation system provides data that allows you to have better production control as you can monitor material consumption, production time, curing time and job status in real-time. Lastly a unique storage system, where pallets are stored one above the other, saves precious space in your plant.
Systems are designed to the specific needs of your market, but stations can include:
Pallet cleaning with full automatic cleaning by scraper and brush
Digital plotting with data generated by a CAD system and trasferred in DXF format to a master computer that organizes the production sequence and provides the plotter with the relevant data of each pallet just in time.
Oiling station with forming oil being sprayed onto the pallet in a very even and consumption-controlled manner.
Magnetic side rails area where set up is by means of a light crane along the plotting line. Note only one operator is needed to perform this task.
Wythe reinforcing station where reinforcing of the first wythe happens.
Casting and concrete compaction station where fast and precise casting is done by one operator using a radio remote control. Compaction is done by a shaking station using low frequency, thereby reducing noise level an added benefit.
Insulation install and reinforcement of second wythe.
Casting of concrete and compacting of second wythe. The concrete spreader is able to cast 1 cubic yard per minute, which is extremely fast. The system spreads the concrete very evenly with almost no manual distribution of concrete necessary
In the screeding station the concrete is leveled and compacted again to achieve accurate dimensions and perfect surfaces.
Raking is possible as well to achieve a special texture
Power Troweling is a one-person operation using a remote control to smoothen the top of the wall panel to create a perfect surface in a safe and efficient manner.
Curing chamber which is temperature and humidity controlled. It is not only fast but energy efficient.
Demolding station where magnetic side rails are removed from the pallet and placed on a conveyor.
Cleaning and oiling of side rails is an automatic process that keeps the side rails clean and always oiled.
Tilting and stripping station reduceds the amount of reinforcing and it is a safe way to strip the wall panels.
Automatic transport of product either to the stock yard or to the finishing line via conveyor where the panels go from one bay to the next finishing with a washing machine and then to the stock yard.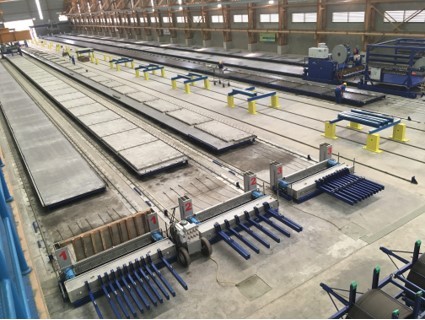 Play Video
Learn why Kerstra chose Weckenmann's Stationary System
Kersktra Results Achieved with Weckenmann Stationary System
Increased productivity
Plotting/cleaning/oiling is fully automatic and it takes approx.1 h Strand pulling and set up bulkheads needs 1 worker and about 1 h Screeding/brooming needs 1 worker and less than 1 h
Less silica in the air
The kind of brushes and the vacuum system reduce the dust in the air
Reduced consumption of forming oil
The quantity of forming oil sprayed on is very even and can be adjusted exactly to the suppliers recommendation
High dimensional accuracy, no measuring errors
The tolerances of a plotting line is less than a quarter of an inch.
Safer working conditions
Less people working on the beds and less trucks driving around.
Faster production
Advantages of the Weckenman Stationary Production System

When it comes to producing prestressed precast concrete products  such as Double T and architectural wall panels, long beds as shown here are the best solution. With the stationary production layout, plants have the flexibility for different products to be manufactured at once and several teams can work on different molds simultaneously. Unlike the circulation system, which requires a certain output per day to make it cost-efficient, the stationary system is well suited to smaller capacity production runs and is overall a lower cost investment.  In addition, the stationary layout is easy to install and move to another place.
The Weckenmann stationary production lines can be configured to meet your market needs but typically include:
CPO machine which is designed for  cleaning the beds, plotting the contours and oiling the beds
Utility cart for lifing the bulkheads up from the bed after stripping the Double Tees, pulling the strands, and placing the bulkheads on the bed. The utility cart requires only one operator who stands on the machine and travels with the machine all along the bed.
Finishing machine for screeding the surface, power troweling, broom finishing and raking (depending on the refinement needed on the Double T surface).
Tarp cart with two racks for the hoops that are integrated and allows for quick and easy removal and installation of the hoops and tarp.
Traverse trolley which allows all machines to move from bed to bed by themselves without a crane using rails on the floor.
Run-off cart which can be used for the transport of Double T slabs or wall panels by two identical carts which run on the same rail track. They are battery powereed and the operator controls the machine with a radio remote control system.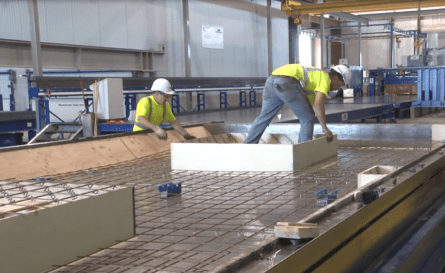 How to Get the Best Results in Long Line Wall Panel Productivity

Check the current status of a plant.
Where are the bottlenecks by time and process analysis.
Which processes require a high consumption in labor force.
Optimize data-, material- and workflow.
Replacing manual work with machines, equipment, workplace systems.
Use digital technologies to plan the works, control the processes and guide incoming/outgoing goods.
Weckenmann Systems Resources