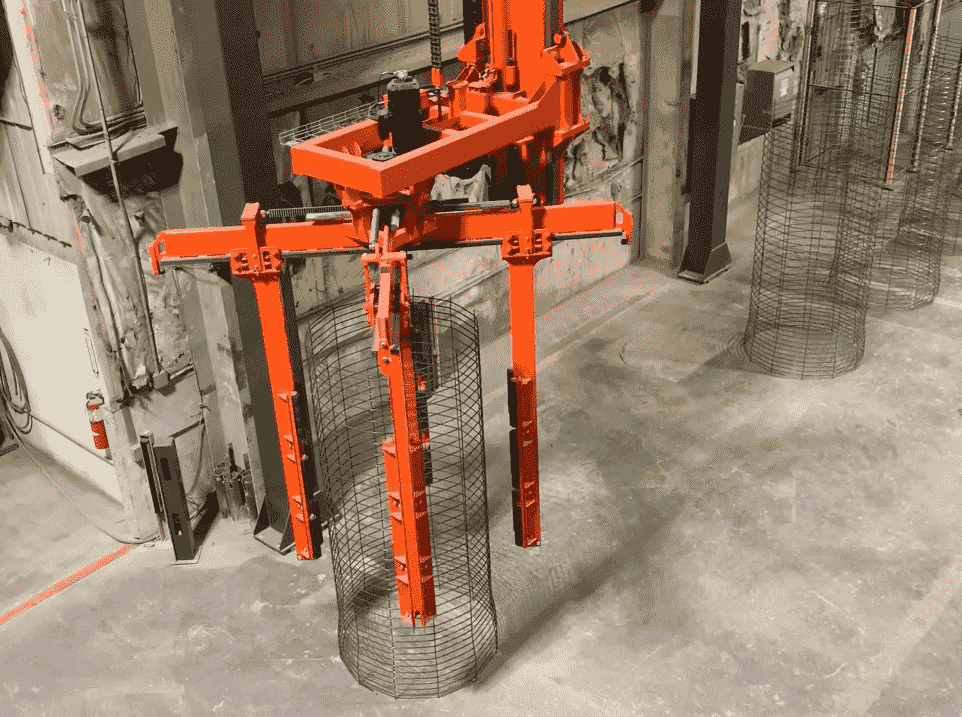 After the concrete pipe and manhole reinforcement cages are made on the cage machines, Afinitas, through its HawkeyePedershaab and BFS brands, offers a number of solutions for moving the cages automatically into the production machine's casting stations. The process of transporting and loading the cages into the machine is often a bottleneck in a factory and by automating this process, it is possible to obtain lower, more consistent cycle times. No matter the HawkeyePedershaab or BFS production machine being used, Afinitas has a cage handling solution to meet your specific requirements.
Afinitas Cage Handling Solutions:
Reduce costly labor
Increase safety
Ensure faster, consistent cycle times and improved plant efficiency
Are adaptable to multiple plant layouts and machines
Cage Reinforcement Handling Case Study
"We wanted something to be able to take cages directly from the MBK and place them all the way through the Mastermatic to pipe production, and have it come out the other side. The idea was to have it all automated."

Charlie LaMange

Plant Manager, Northern Concrete Pipe, USA
"Northern came to us and said, 'we want a system where we don't have to touch the cage from the time it gets made until it is cast into the piece.'"

Jason Banwart

Afinitas Director of Technical Sales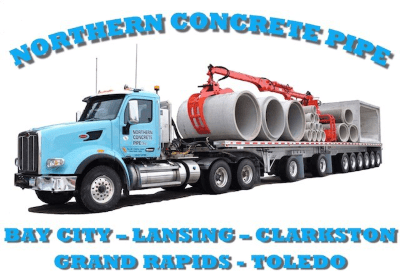 Northern Concrete Pipe Case Study

With a difficult labor market, Bill Washabaugh Jr., who leads USA company Northern Concrete Pipe, understands that automation is key to making their family business, employees, and the concrete pipe industry thrive. For that reason, when it came time to upgrade his Grand Rapids, Michigan, plant, he reached out to Afinitas company HawkeyePedershaab to assist with setting his plans for technology innovation and increased automation in motion.
Interstate 96 connects the major cities of Michigan, from Grand Rapids in the west, through Lansing in the central part of the state, to Detroit in the east. It's a lifeline of sorts through the state, so it makes perfect sense that Northern Concrete Pipe would locate three of its five plants in close proximity to I-96. With those three sites, plus the original Bay City location 100 miles north, and a plant just over the border in Sylvania, Ohio, Northern has a solid reach throughout the region as it powers into its seventh decade of manufacturing pipe and other critical infrastructure products such as manholes, box culverts and three-sided bridges. Founded in 1958 by the Washabaugh family, the company is now in its third generation of family ownership, with Bill Washabaugh, Jr., at the helm.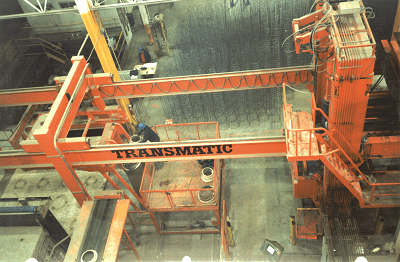 Northern determined it was time to upgrade their 1976 Transmatic machine (which still ran!).
The Challenge

"We're blessed to have absolutely incredible people working here. The problem is, we can't find enough good help," Washabaugh said. "We've been running shorthanded in all of our plants for four or five years. We're able to do that because of the exceptional staff that we have, but it's not fair to them to force them to work their tails off. So, anything we buy – it's not eliminating jobs – it's just replacing people that we can't find."
That kind of thinking put Northern Concrete Pipe on the front lines of automation, and it led them to challenge HawkeyePedershaab, an Afinitas company, to collaborate on developing new technology to further automate their plants when it was time for an upgrade.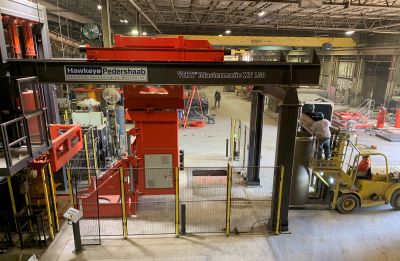 The HawkeyePedershaab Mastermatic 150 XT is a fully automatic rising core compaction pipe machine that feeds concrete into the mold 45% faster than conventional fixed-core vibration. In addition it does not require an overhead crane to demold the product.
The Solution

The new vision for the plant centered around replacing Northern's classic Transmatic with the HawkeyePedershaab Mastermatic XT150, a fully automated rising core compaction pipe machine. The Mastermatic is a self-stripping machine so it doesn't require an overhead crane to demold the product. In addition Northern recently replaced three older MBK cage welding machines with a new MBK system. The goal was to seamlessly integrate the movement of the cages going into the HawkeyePedershaab system with the MBK system. It required programming the U.S.-based HawkeyePedershaab operating system with the German-based MBK.
"Northern wanted to have some flexibility to have a buffer zone, where if something paused in the machine production the MBK could keep running and producing cages. Or, if the MBK had to shut down, the machine could keep running and pull cages from that buffer zone. It was kind of that two-pronged request that drove the automation that we developed," said Jason Banwart, Afinitas Director of Technical Sales.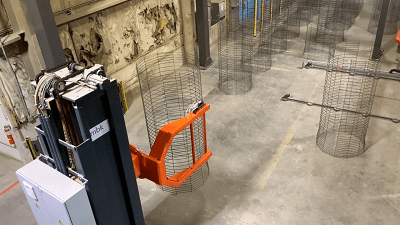 MBK robot handling of cage to the cage manipulator. The entire cage handling process is automated.
The Results

The Mastermatic XT 150  provides the latest pipe production technology and allowed Northern to make a step up in pipe quality.
New configuration reduces manual workload while increasing output.
Health and safety benefit from less moving and lifting of cages.
Reduction in spacer usage by having cage positioners.
Less physical labor for team members, allowing them to do more with their minds, controlling the machines and setting up programs vs. having to lift cages and place spacers.
HawkeyePedershaab support technicians can log in remotely to assist with any needed adjustments.