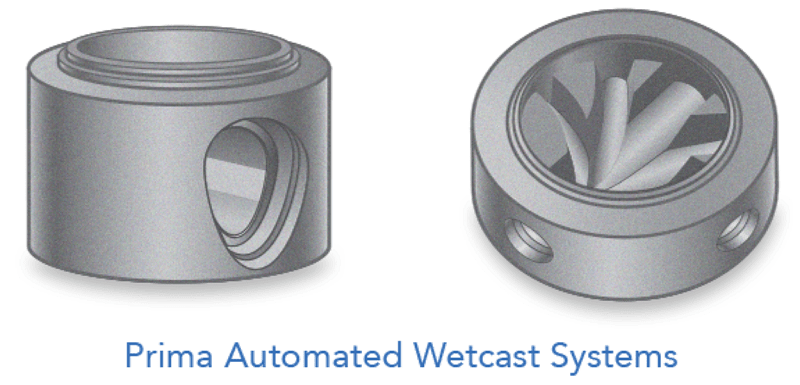 More than just machines, Afinitas' Prima monolithic manhole base solutions integrate technology from the HawkeyePedershaab Smartcast and the BFS Capitan manhole base systems to provide one-of-a kind production systems for the creation of wetcast manhole base sections and other specialty concrete products. Unique to Prima is that you choose the milling device that best fits your needs.Whether it is our HawkeyePedershaab Smartcast Kuka robotic milling, or the BFS Capitan CNC multi-axis milling device, or both, combined into one unit, you can produce limitless channel flow designs.
The challenge with traditional manhole base production is that it is slow, labor-intensive and error-prone. Prima removes those barriers with the world's simplest and most flexible systems for the production of monolithic manhole bases.
Trusted technology from HawkeyePedershaab Smartcast and BFS Capitan
Choose the milling system you require, robotic, CNC multi-axis milling, or both
Purchase EPS blanks from your preferred supplier
Readily available worldwide technical assistance
Transform your wetcast production with the integration of our Prima Wetcast Automation System
Capacity
A system using CNC multi-axis milling can output  30+ pieces in one shift and up to 15 pieces using the robotic milling device (depending on the product parameters).
Nominal diameter 600 – 2000mm 24-80″)
Vertical drop up to 90M (3′)
Models
Prima Hybrid  (robotic milling arm and CNC multi-axis milling capabilities)
Prima Robotic arm milling
Prima CNC multi-axis milling
Prima Base Key Advantages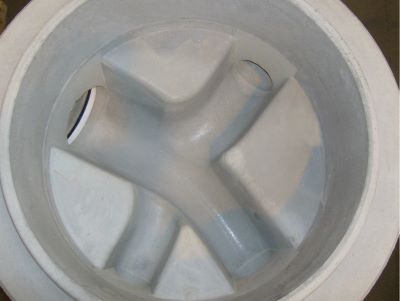 The Manhole Channel Configuration Challenge

A base section – or a manhole base – is the bottom part of an inspection chamber. It has the purpose of allowing inspection and maintenance of a pipe line – in particular at points where more pipe lines are jointed. The consequence of this is that manhole bases are needed in many different configurations as the different connecting pipe lines often are of different sizes, different materials, varying gradients and invert levels. The challenge with many inspection chambers is therefore to form all the individual channels in the manhole bases, so that each pipe line has an unobstructed flow through the manhole minimizing the risk for build-up of solids. Traditionally, the forming of the manhole flow channels has been done manually by making a concrete benching on site, a very time-consuming, labor intensive and difficult job.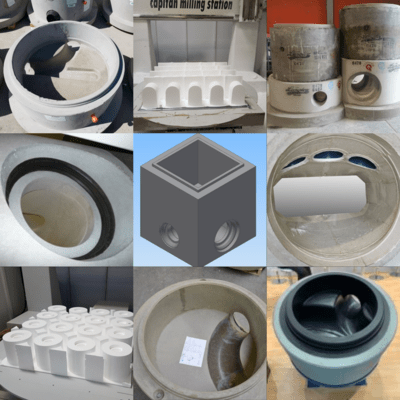 The Prima Base Solution

The Prima monolithic manhole base system replaces manual operations with an intelligent, digital configurator that is simple to use and provides unlimited flexibility to meet specific product needs with the highest quality.
Once the key variables are entered into the Prima product configurator, the system mills channel-forming molds out of a single piece of industry-standard EPS (Expanded Polystyrene) using either a programmable industrial robot (for highly specialized projects) or a CNC multi-axis milling unit for higher output projects. There is no need to tape, glue and screw or use proprietary-shaped foam sections. The user-friendly computer interface creates the world's easiest system for manufacturing monolithic manhole bases of the highest quality.
The Prima system can be used as a simple, stand-alone EPS milling station or integrated into our Prima automated production system featuring specialized, assembly-line style workstations for filling, de-molding and handling.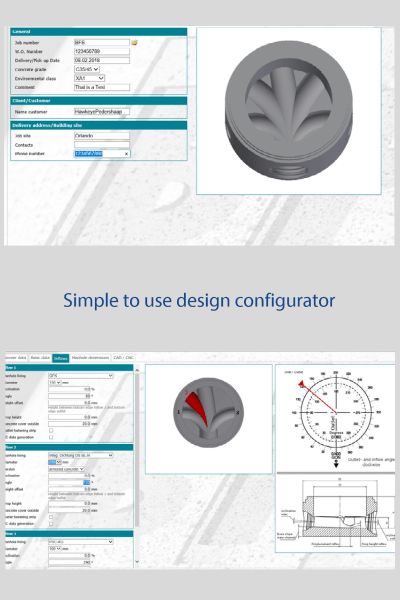 Intuitive Design Software

The manhole base design is created automatically after entering parameters including, the number of inlets, the diameter and orientation of inlets, the height (invert level) of the inlets, the amount of fall in the flow channels, the type of connection, the angle of the banquette, etc. It is all done through a user-friendly, interface that is available on your local server or a web server (your choice). Prima can be run as a stand-alone system or integrated into your company's existing ERP system. The web-based option allows manhole bases to be designed from any computer station ( PC, laptop, tablet or  Smartphone), at work or remotely. After the manhole base has been designed, a full manufacturing drawing can be downloaded immediately. Once approved the manhole base design is released for production with a single click.
International language capabilities
Connects to almost any ERP and can create a project workflow and associated paperwork (purchase orders, change orders, datasheets, etc.) within the system
Calendar feature for scheduling and/or rescheduling work
Barcoding can be added to datasheets
Can also configure square manholes
All channel settings can be saved as favorites for reuse
Special configurators can be created to do very complex or unusual pieces
Stacking software also available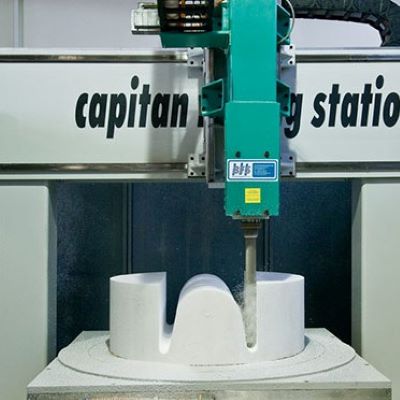 Precise and Productive Milling – BFS Capitan Technology

The BFS Capitan CNC multi-axis milling center option creates precise channel negatives as well as related recess cores. Approximately 30 complete channels can be produced by one operator in one shift. In addition one polystyrene core can be used for up to five casts. The complete automation of the milling process frees up the operator to work on the assembly of channels, also a simple process that is done without the need for tools.
Vacuum table fixes the polystyrene blocks
A pin clamps the hole former
Any bench angle can be milled independent of inner core angle
Polystyrene residuals are automatically suctioned away
Up to 30 products in 1 shift, 1 operator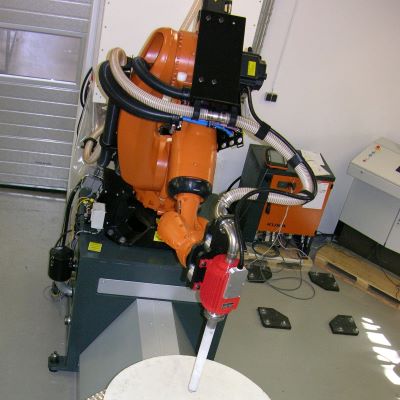 Advanced HawkeyePedershaab Smartcast Robotic Milling

For those who prefer an even more advanced milling technique, the system can be equipped with Kuka robotic arm technology. This six-axis milling robot is outfitted with precision grinding head mills. Depending on the size of the manhole base and configuration of its flow channels, the robot is able to produce up to 15 EPS channel formers in one shift using one operator. The system is easy to set up and operates without supervision needed. Also included is a suction and bagging system to pick up polystyrene residue that can be recycled. In addition the robot can be supplied with standard robot programming software that allows the user to use the robot for other purposes when needed.
Six-axis robotic arm
High speed spindle motor and specialized tooling
Limitless design configurations
Up to 15 EPS Channels 1 shift/1 operator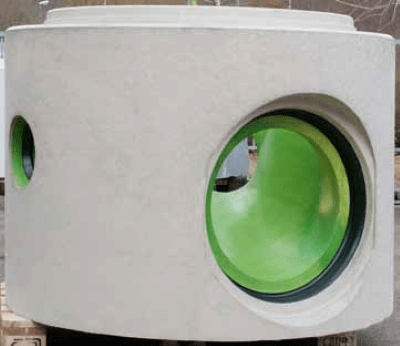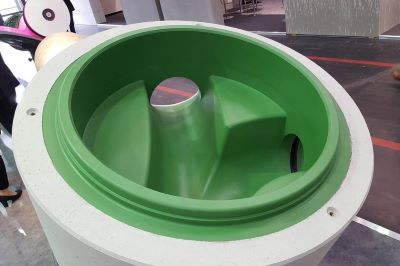 Strato – First of its Kind Inliner Pipe

Take your production in a new direction with our BFS brand's innovative Strato inliner pipe system. Strato is a new option that complements our Prima manhole base system. This unique inliner is specifically made for use under the extreme conditions in sewage applications. Strato withstands the highest demands for durability under increased chemical exposure and and can be quickly and economically inserted into your Prima production system.
The entire chamber base lining and the pipe connections are produced outside of the mold without any joints. The production of individual chamber linings as well as the intelligent stock production offers extremely economical production conditions which includes the simple recycling of Styrofoam models as well.
Strato creates an extremely smooth surface with excellent hydraulic properties. It can be used with all standard sealants, and the Strato coating ensures high acid resistance up to pH levels of 1. Strato also has a high chemical resistance to gases and salts and is extremely abrasion-resistant.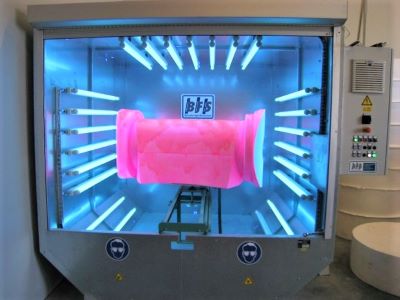 BFS Casacap Coating  for Quick UV Curing

After milling the manhole base channels, the BFS Casacap coating is applied to the surface of the milled EPS parts. This results in both a very smooth concrete surface on the finished product and the release agent makes it possible to remove the EPS former easily in one single piece when demolding. Our BFS Casacap UV Curing station allows the channels to be processed in less than 5 minutes.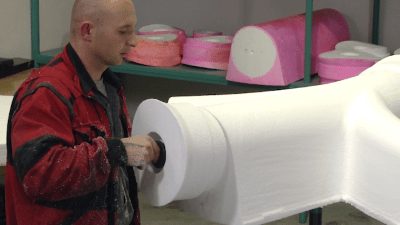 Quick and Easy Mold Set-Up with Prima

One of the greatest assets of the Prima monolithic manhole base system is the ease with which the EPS parts are produced, fit together and ultimately fix to the permanent steel mold. Competitive flexible base systems require multiple, complicated production steps in order to produce the EPS core top, and involve numerous hot-wire cutting machines and careful gluing processes. Our system creates the entire flow-channel portion of the EPS core top in one continuous piece and the connection pieces, or side cores, are simply fixed to the main core top using self-locking principles. In essence, the production and assembly of the EPS core top and the process of fixing it to the permanent mold is literally so simple a child could do it.
Afinitas' Prima Base System offers many additional features to help you work smarter.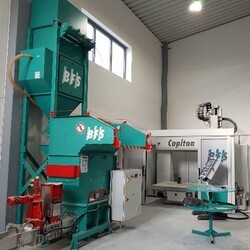 EPS Compactor

Achieves compaction up to 25:1.
See More of the Prima Base System
Hear from Tindall Utility Division leaders about why they chose Prima for their new facility.
Watch Video