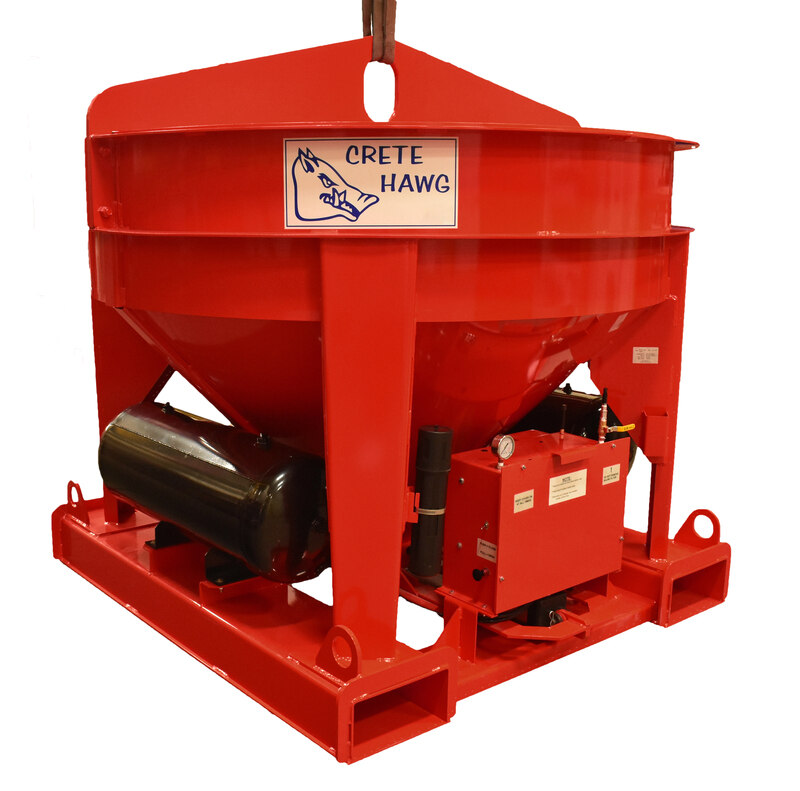 Afinitas offers Crete Hawg concrete pouring equipment from the industry-leading manufacturer, New Hampton Metal Fabrication. The remote-controlled Crete Hawg Concrete Pouring Bucket brings a new level of safety and productivity to your concrete production processes and uses innovative technology to help make the job simpler.
The Crete Hawg Concrete Pouring Bucket System by New Hampton Metal Fabrication is a unique system that utilizes a robust, wireless radio control technology to operate the bucket's air-operated gate system. Crete Hawg means the operation is more hands off than traditional concrete pouring equipment, increasing safety and productivity for your operations and improving ease-of use for operators. Here's how: The remote-control functionality makes it simple for employees to operate and control the flow of product by opening and closing the gate hands-free. Plus, it's safer – no more climbing ladders and moving the bucket – the system does all the work.
Learn more about concrete pouring buckets and other equipment offered by Afinitas by contacting a sales rep today!
Key Advantages of our Concrete Pouring Buckets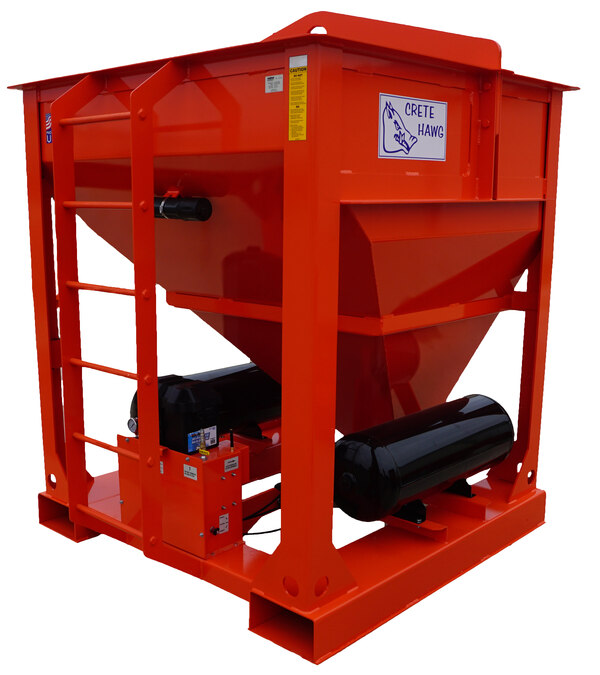 Concrete Pouring Made Simpler and Safer

Crete Hawg automatic concrete pouring buckets are fully equipped with technology that helps jobs run smoother and safer with exceptional features and customization options available to help meet your unique applications. Some of the key features of these Concrete Pouring Buckets include:
A Slide Gate System that uses "wireless radio control technology" to open/close the air operated slide gate.
On board air tanks with the appropriate relief valves, tank drain valves, pressure gauge and air supply shut off ball valve.
On board 12 Volt electrical system.
On board battery SMART (maintainer) charger.
On board manual operation valves. (This is a redundant feature if electrical failure of any type should occur).
All "Concrete Contact" steel is AR plate. (Abrasion Resistant).
"Wear & Spare" parts are in stock for immediate delivery.
Crete Hawg keeps the operator positioned in a safe location. (No climbing required to operate a manual handle).
Faster production cycles.
1, 2, 3, 4 Cubic Yard Capacities are available.
Custom-designed Crete Hawg concrete buckets are available.
All systems come with iron phosphate wash, epoxy primer, and urethane topcoat paint.
U.S. Patent  No. US9,052,034,B1
Learn more about the advantages and features of Crete Hawg's Concrete Pouring Bucket below.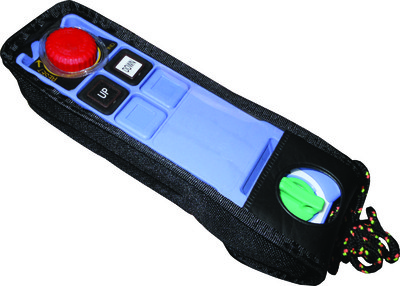 Crete Hawg's Unique Wireless Remote Control

The Crete Hawg Slide Gate System uses wireless radio control technology to open and close the air operated slide gate. There are no air or electrical lines tethering the operator to the bucket. Each system comes with two wireless remotes, so if one is damaged or fails to work,  the operator is able continue to production without interruption.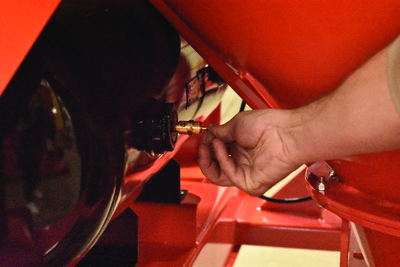 On Board Air Tanks

The Crete Hawg Concrete Bucket System comes fully equipped with two on board air tanks. Air tanks are designed with the appropriate relief valves, tank drain valves, pressure gauges and air supply shut off ball valves.
12-Volt Electrical System and Battery Smart Charger

The electrical system is complete with a 12 volt supply. The Crete Hawg also includes an on board battery SMART maintainer charger.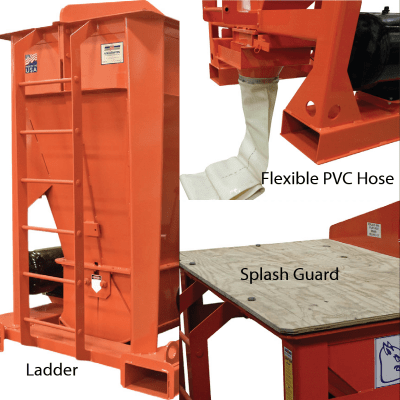 Additional Crete Hawg Options

 Ladder with "SlipNOT" slip resistant ladder rungs
 Bolt on, plywood splash cover for half opening
 2' Pivoting/removable pouring chute
 4' Removable chute extension for above chute
 2' Quick change fixed position pouring chute
Quick change funnel adapter – 4, 8, or 12 inch diameter x 10' long hose
"We initially bought one and were amazed at how efficient it was and then we got another."

Greg Bonney

Plant Foreman, Scituate Concrete Products
Learn how the Crete Hawg helped Scituate Concrete Products bring more safety and efficiency to their operations.
Watch Video