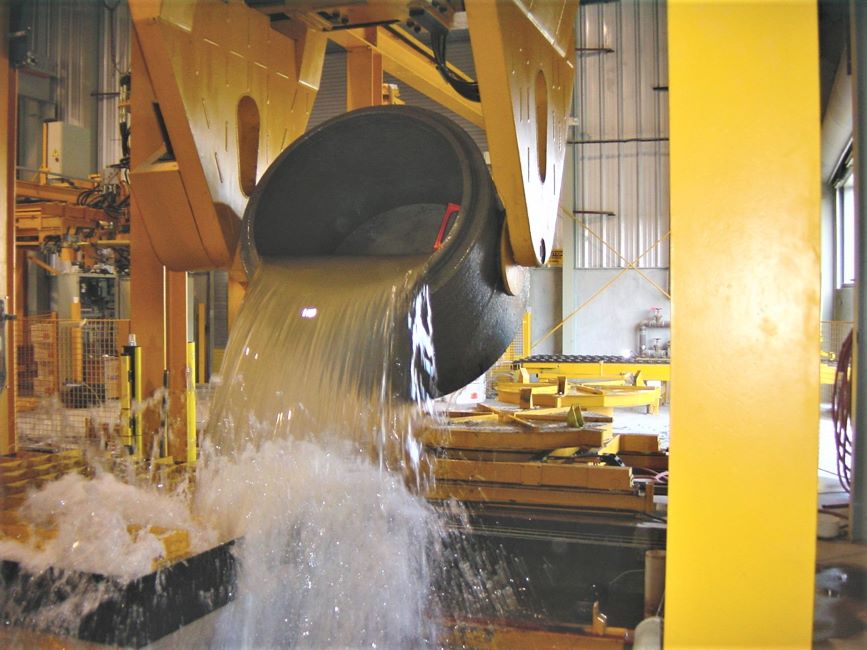 At our core, Afinitas is all about enabling and assisting you to produce consistently high-quality concrete products. Part of this initiative is embodied in our HawkeyePedershaab and BFS automatic testing and processing lines, normally integrated into a fully-automatic production system but also available as a stand-alone off-line process.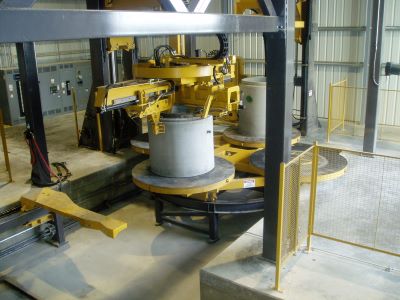 Manhole Spigot Deburring

In order to improve a manhole's cosmetic appearance and ensure proper joining in the field, it is helpful to deburr the inner and outer shoulders of the spigot. Afinitas automates this process through the use of pneumatic-powered crushing cones, pulverizing the fins on the manhole shoulder and leaving crisp, sharp joint shoulders. The HawkeyePedershaab and BFS manhole deburring systems are designed to deburr the manholes in their natural, vertical orientation and are customizable to include both inner and outer deburring to the spigot.
Reduce costly and dangerous labor
Improve manhole cosmetics
Computer-controlled pneumatic crushing pressure adapts to cone wear
Easy replacement of special A1 tool steel crushing cones
Fast cycle time prevents deburring from being a factory bottleneck
Automatic adjustment between all manhole diameters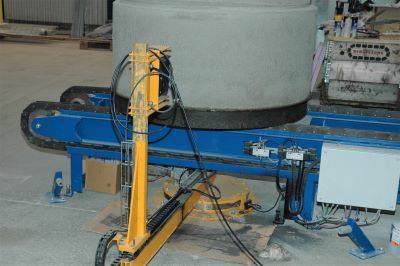 Manhole Printing

Afinitas offers printing solutions for the outside of manhole products. In the manhole printing station, the manholes are printed while the manhole is in its natural, vertical orientation. The manhole printer is able to print a wide range of figures and letters and is integrated to an operator's interface so that all manholes can be marked with a production reference, date, manufacturer's code or logo.
Reduces labor
Allows for dates, production references, manufacturer's codes and/or logos to be placed on manhole
Quick operation prevents any plant bottlenecks
Automatically adjusts between all manhole sizes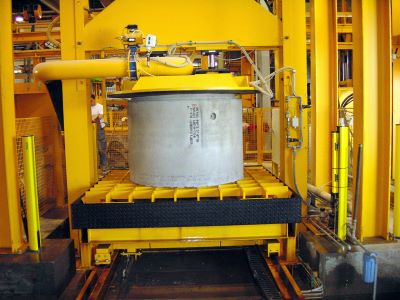 Manhole Vacuum Testing

The manhole vacuum tester tests the manholes in a vertical orientation. Vacuum testers are complete with an electrically-powered, rotary screw vacuum pump and reservoir tank. Horizontal testers include two bulkheads coated with closed-cell neoprene for sealing the manhole ends. The vacuum is drawn to a preset value and held for a preset time. Pressure is monitored during the test cycle. If the product passes the vacuum test, the bulkheads automatically release. If the product does not pass, an alarm sounds. Models are available for testing manholes up to 72".
Powerful rotary screw vacuum pump is capable of quickly pulling a vacuum of 24mm Hg
Quick vacuum pull allows for cycle times of less than one minute, preventing vacuum testing from becoming a factory bottleneck
Can be combined with outside printing system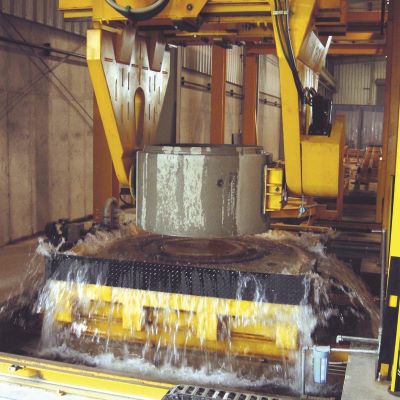 Hydrostatic Testing

The most fool-proof quality control check one can make of their produced manhole is a true hydrostatic pressure test. Afinitas offers in-line and off-line hydrostatic testing stations designed to quickly fill the concrete manhole with water to a pressure of 1 bar (14.5 psi). The equipment then quickly dumps the water, where it is recycled through a large holding tank for use on the next manhole, and sends the manhole on its way. When used in online applications, our HawkeyePedershaab and BFS hydrostatic testers are outfitted with a powerful pump and air bleeding valves in order to quickly fill and empty the manhole of water, preventing hydrostatic testing from being a crucial plant bottleneck.
Powerful pumps and air bleeding valves for fast fill and empty capabilities
Improve quality control through sure-fire hydrostatic testing method
Water reclamation and recycling system to prevent excess use of water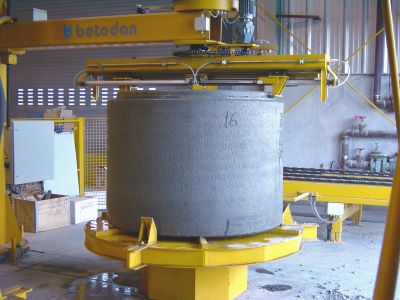 Manhole Spigot Measuring

One way Afinitas ensures the quality of your products is by quality-control devices such as our HawkeyePedershaab and BFS manhole spigot measuring equipment. The manhole spigot measuring device takes multiple readings along the periphery of the manhole spigot, accurate to less than 0.1mm, measuring both diameter and roundness, and stores this data for generating quality control and statistical reports, which can even be printed on the manhole. As an added benefit, the manhole spigot measuring device can be outfitted in conjunction with an outside printing system.
Accurate measuring system, able to measure spigot diameter and roundness within 0.1mm
Able to be placed in-line or off-line of an automatic testing line
Automatically adjusts to all manhole sizes
Able to be outfitted with optional outside printing system