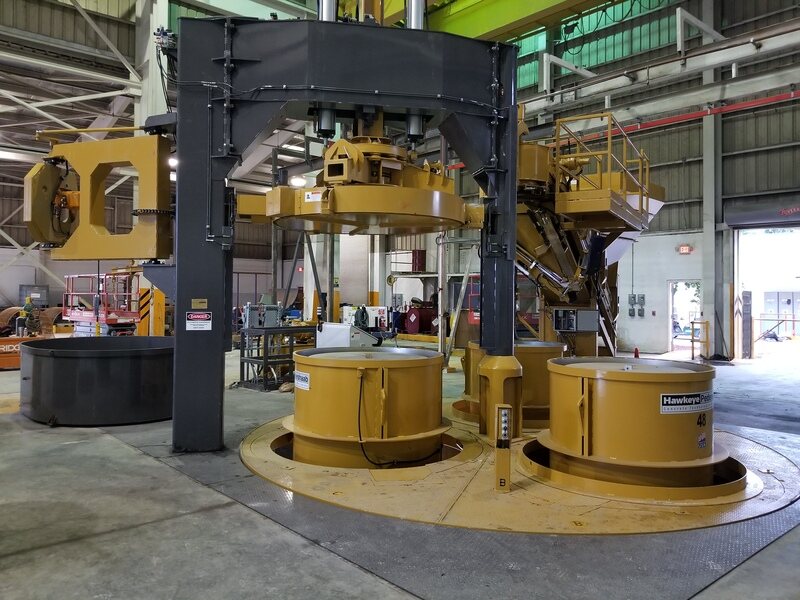 Afinitas brings you a simple, dependable, easy to operate, concrete pipe and manhole machine with its HawkeyePedershaab PipePlus. The PipePlus machine is available with multiform modules and manufactures pipe in numbers that rival more expensive machines. Furthermore, the PipePlus features production flexibility and 10-minute form changeovers, which allows producers to schedule in special orders and keep yard inventories low.
The PipePlus machine is ideally suited to produce:
Capacity
Depending on the machine model, a typical HawkeyePedershaab PipePlus plant offers an annual production capacity of 60,000-70,000 tons of product in a one-shift operation.
Models
HawkeyePedershaab PipePlusPlus
HawkeyePedershaab PipePlus 96
HawkeyePedershaab PipePlusPlus Compact
Other models available upon request.
HawkeyePedershaab PipePlus
PipePlusPlus
PipePlus 96
PipePlusPlus Compact
Product Dimensions
300mm to 1800mm diameter (12" to 72" diameter)
300mm to 2400mm diameter (12" to 96" diameter)
300mm to 1800mm diameter (12" to 72" diameter).
Product Lengths
up to 3.5M (12')
up to 3.5M (12')
up to 3.5M (12')
Maximum Multiforms by Machine
Singleform
up to 72" diameter
up to 96" diameter
up to 72" on one station and 60" on other two stations
Duoform
up to 30" diameter
up to 48" diameter
up to 24" diameter
Triform
up to 36" diameter
Quadform
up to 18" diameter
up to 30" diameter
up to 18" diameter
SixPak
up to 24" diameter
EightPak
up to 18" diameter
 PipePlus Machine Key Advantages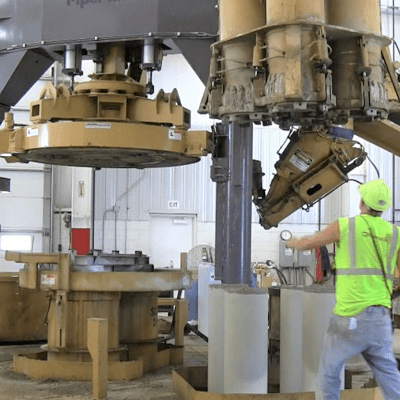 Simple Operation and Maintenance
Afinitas understands the need for efficiency in your operations. For this reason, we use off-the-shelf components wherever possible to make the PipePlusPlus easy to run and maintain. Here's how it works:
A concrete distributor chute automatically adjusts to the form size in the fill station and begins to feed concrete into the form.
The feed rates and vibration settings are stored in the PLC for each product type (manual control also available).
After the tongue former is placed in the filled form set, the PipePlusPlus pressheading cycle automatically commences.
The presshead presses the tongue former to form the spigot, trowels the joint surface, and returns to the home position for the next pipe.
For added flexibility, concrete pipes can be offborne from the PipePlusPlus machine with an automatic or conventional overhead crane.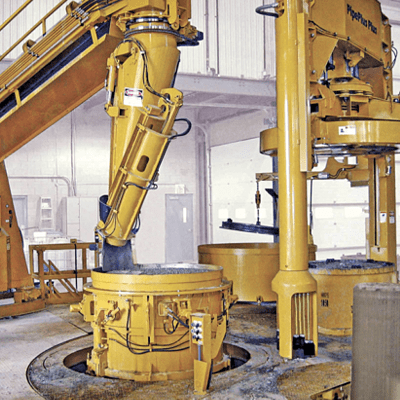 High Productivity, Flexibility and Versatility
The PipePlus three–station turntable design collapses the filling, pressheading, and stripping steps to fast-track the production cycle and increase output. In addition to being efficient, the turntable allows the simultaneous production of three different pipe sizes and shapes. PipePlus can manufacture arch, round, elliptical and jacking pipe, as well as a full range of manhole products and catch basins.
Expanded Output with PipePlus Multiforms
HawkeyePedershaab's patented multiform modules allow up to eight pipes to be produced in a single form. The result  is that depending on the machine model and product diameter, the PipePlus can manufacture up to 100 pipes/hr with multiforms. This superior output has made PipePlus a top choice among producers around the world.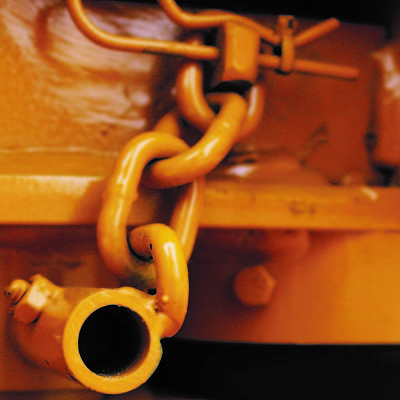 Quick Form Changeover
Thanks to the machine's speedy, 10-minute form changeover, PipePlus boasts exceptional short-run capability. In effect, all you have to do is pull a pair of pins and disconnect the vibrators. Next, simply remove the form and enter a new one into production. That's it.
High Concrete Product Quality 
With the PipePlus machine you have variable feed rates and vibration settings specific to each product type to ensure a quality product no matter what is being made. In addition, the PipePlus pressheading system utilizes stay-in-place headers for smooth, dimensionally accurate spigots every time.
Upgrade Your PipePlus with Ease
Our PipePlusPlus Compact model makes it simple to replace your existing PipePlus machine. In fact, it fits into your existing pit and utilizes your existing form and joint rings. Even better, PipePlusPlus Compact features new, advanced control technology and machine upgrades that will boost your productivity, including:
A free-standing control console with a programmable logic controller that provides complete command over all operations.
Advanced electro-hydraulic and pneumatic controllers for push-button operation.
Automatic pressureheading.
Semi-automatic filling with computer-controlled feeding.
Articulated header placement jib with an enlarged swing radius to pick headers from three stacks and allow an oil dip tank to be incorporated into the system.
See More PipePlus Machines
PipePlus Machine Resources