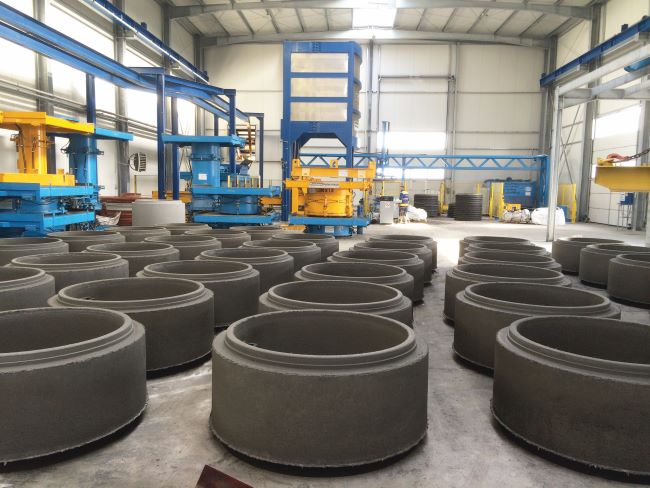 With the HawkeyePedershaab VIHY Kastmaster, Afinitas brings an automatic, linear production-line approach to concrete pipe and manhole manufacturing. Designed for use as a stand-alone machine or as part of a totally automatic factory, the Kastmaster allows concrete pipe and a wide range of manhole products to be efficiently produced with just one or two production personnel. Kastmaster's robust four-column machine frame, flexible vibration styles, and available form rotator accommodates many different form types, permitting the machine to efficiently manufacture a wide range of standard and specialty products.
The Kastmaster machine is ideally suited to produce:
Capacity
The Kastmaster offers an annual production capacity of 50,000-60,000 tons of product in a one-shift operation. The machine is designed to accommodate multiform modules for expanded output.
Models
Kastmaster 150/200
Kastmaster 150/250
Kastmaster 200/250
| HawkeyePedershaab VIHY Kastmaster | Kastmaster 150/200 | Kastmaster 150/250 | Kastmaster 200/250 |
| --- | --- | --- | --- |
| Product Dimensions | 300mm to 1500m diameter (12" to 60" diameter) | 300mm to 1500m diameter (12" to 60" diameter) | 300mm to 2000m diameter (12" to 78" diameter) |
| Product Lengths | from 0,25m (1') to 2,0m (6') | from 0,25m (1') to 2,5m (8') | from 0,25m (1') to 2,5m (8') |
VIHY Kastmaster Machine Key Advantages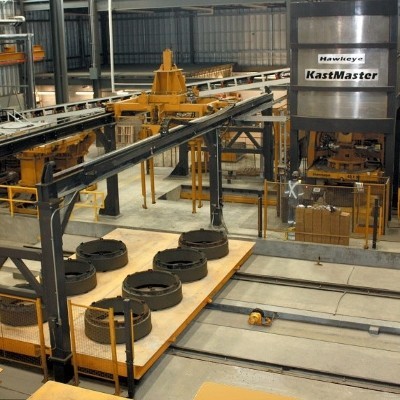 Fully Automatic Operation

With Kastmaster you will use less labor and enjoy precisely repeatable production cycles. The machine is designed with an infeed shuttle that automatically feeds pallets and reinforcement to the production station as a corresponding outfeed shuttle transports finished products to a pickup position. The Kastmaster cycles run like this:
A pan-type swipe feed automatically positions over the form set and begins to feed concrete into the form.
Feed rates and vibration settings are stored in the PLC for each product type (manual control also available).
After the swipe feeder retracts, a tongue former is placed in the filled form set and the pressheading cycle automatically commences.
The Kastmaster presshead presses the tongue former to form the spigot, trowels the joint surface, and returns to the home position for the next product.
Concrete products can be offborne from the machine with an automatic or conventional overhead crane.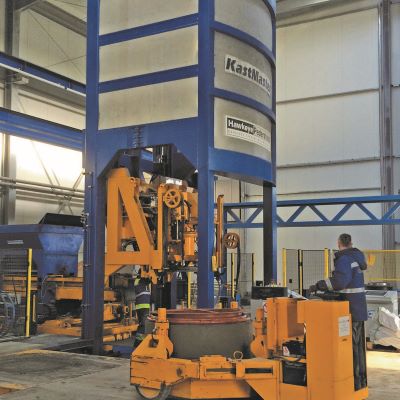 Rational Production Flow

Kastmaster's dual shuttle carts organize the feeding of pallets and cages into the machine from one side and discharge finished products from the other side to a pick up point. A single operator can easily monitor and control the machine from a centrally located console. With Kastmaster, there is easy access to both shuttle carts to undertake necessary supporting operations while the machine is running.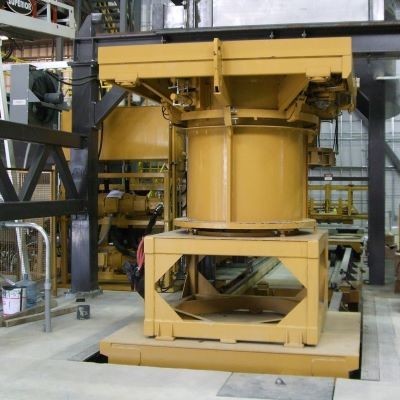 Manufacturing Flexibility

The Kastmaster can be equipped with several form vibration types and/or a table vibration system to produce concrete pipe, manholes and slab-type products. Additionally, a form rotator device can be added to the Kastmaster so that products made in turn-over molds can be flipped 180° before demolding.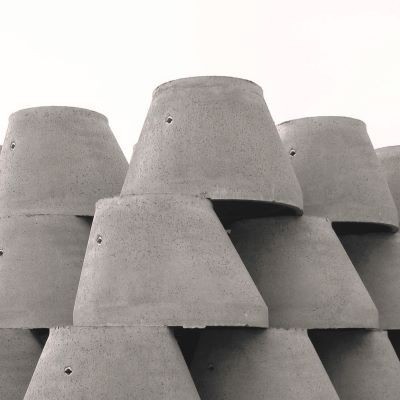 Production Versatility

The Kastmaster can be equipped to manufacture round, oval, arch, and box-shaped  concrete products in diameters up to 2000mm (78") x 2.5m (8') lengths – as well as jacking pipe, lined pipe, and the full range of manhole riser, cone, and base products.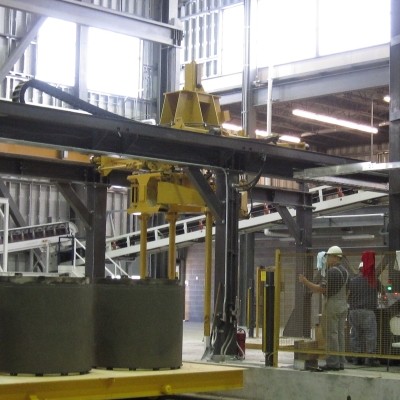 In-Machine Demolding

Products are demolded within the machine and placed on an outfeed shuttle. Finished concrete products can be manually or automatically picked from the shuttle for transport to the kiln. The in-machine demolding feature eliminates the need for an overhead crane, which means the Kastmaster can be installed in most existing plants, reducing required capital building costs.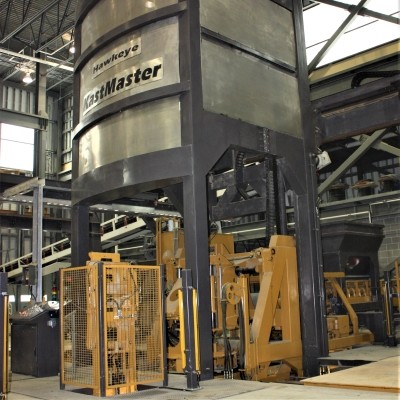 Kastmaster Maximizes Safety

The Kastmaster was built with safety in mind using an integrated system of photo cells, safety fences and a below-ground casting station to reduce noise levels. The machine is compliant with EU standard requirements.
See More Kastmaster Machines