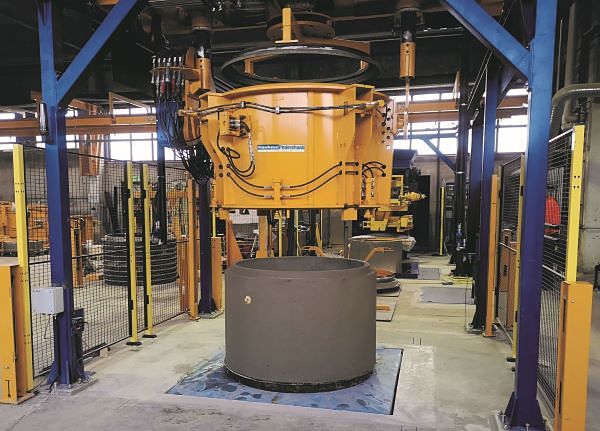 Afinitas offers high throughput production with the HawkeyePedershaab VIHY Mastercast manhole machine. With Mastercast you can mass-produce concrete manhole risers, cones and bases up to 1200mm (48″) in diameter by 1.2m long (4′). In addition, the VIHY table vibration system allows for the optimal production of special, non-round concrete products such as street gullies, catch basins, grade rings and slab products. Mastercast is designed to run either as a stand-alone, automatic production machine or within the context of a fully automatic production plant.
The Mastercast machine is ideally suited to produce:
Capacity
Depending on the machine model and the product being produced the Mastercast machine can produce up to 20-25 cycles per hour – or up to 30-35.000 tons per year – in single shift production.
Models
Mastercast SC 120
Mastercast SC 150
| HawkeyePedershaab VIHY Mastercast | Mastercast SC 120 | Mastercast SC 150 |
| --- | --- | --- |
| Product Dimensions (manhole) | 300mm to 1200mm diameter (12" to 48" diameter) | 300mm to 1500mm diameter (12" to 60" diameter) |
| Product Dimensions (square) | up to 900x900mm (3'x3') | up to 1200x1200mm (4'x4') |
| Product Lengths | 50mm (2") to 1,5m (5') | 50mm(2") to1,5m (5') |
VIHY Mastercast Machine Key Advantages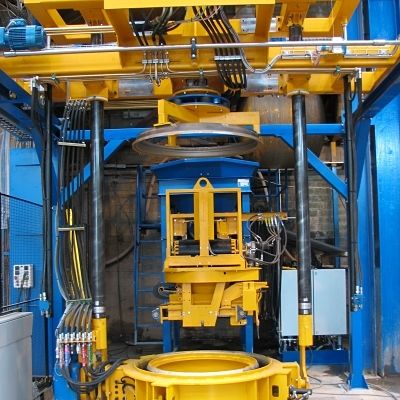 Reliable Mastercast Automation Reduces Labor

Mastercast's fully-automatic operation is monitored and controlled from a centralized touch-screen console. Further, the automatic demolding and pallet feeding can be combined with additional labor-saving features so the entire production plant can function with 1-2 operators. Here's a quick overview of how the Mastercast production process works:
The semi-dry concrete mix is filled into the mold by a belt feeder and then compacted by VIHY vertical table vibration.
The concrete's top surface is automatically finished off by a hydraulic press.
Mastercast automatically demolds the product outside the machine where it is taken to the kiln for curing either by cart  or automated handling equipment.
Meanwhile the demolded form immediately returns to the machine for the next cycle.
Automation and PLC controls ensure optimal safety, consistent high output, lowest possible production costs and uniform product quality.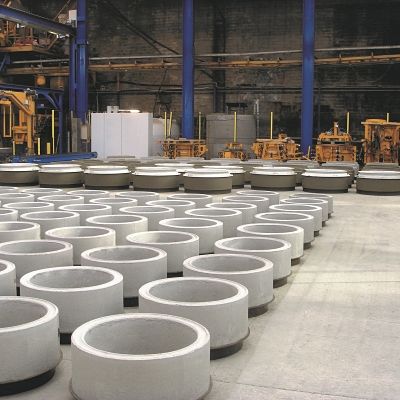 High Output of Any Concrete Product

The Mastercast produces standard concrete products, such as manhole risers, in quantities up to 150 pieces/shift but can also be used for high volume output of specialty products. This allows producers to use one machine and one production crew to cover demand for all manhole component products.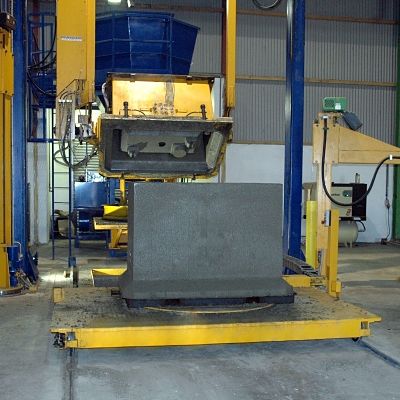 Mastercast Makes a Wide Range of Concrete Products

Designed for flexibility, Mastercast accommodates virtually any kind of concrete product, e.g. hollow, solid, flat, tall, circular, non-circular, reinforced and non-reinforced products. Mastercast offers a uniquely engineered vibration table system and universal mold clamping system that accommodates a wider variety of molds. An additional benefit is that the vibration system delivers true vertical vibration to the mold, maximizing energy transferred to the concrete and minimizing wear on the molds.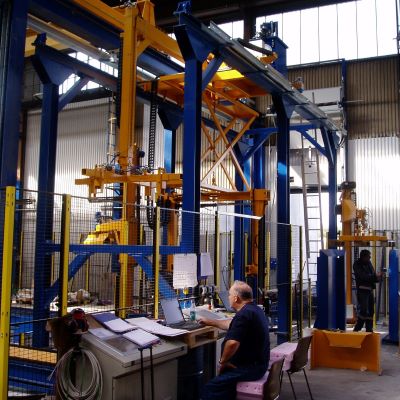 Ergonomic Machine Design

The Mastercast machine is engineered so that the top of the mold always sets 800mm from floor level. This ensures optimum working height for arranging reinforcement, lift anchors, or any other cast-in items. For concrete products of different heights, Mastercast is equipped with a system to elevate all forms to a uniform working height of 800mm.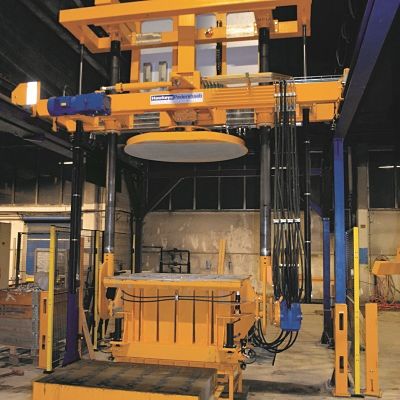 In-Machine Demolding Reduces Costs

In developing the Mastercast system, every step, from filling and compaction to demolding, has been considered with cost reduction in mind. For even more efficiency, Mastercast can be equipped with a mold-turning device so that products made in turn-over molds can be flipped 180° before demolding. In-machine demolding eliminates the need for an overhead crane, which means Mastercast can be installed in most existing plants, reducing required capital building costs.
See More Mastercast Machines