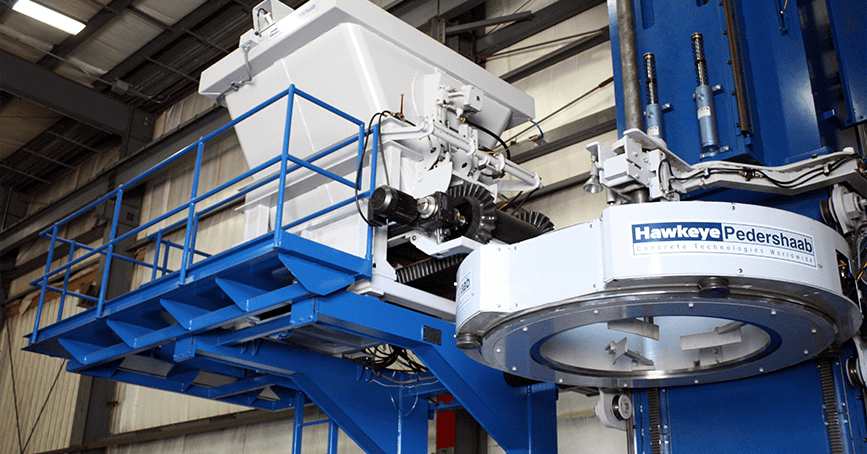 Afinitas brand HawkeyePedershaab's ePak machine series is unmatched in packerhead production technology. For example, ePak's revolutionary eDrive generates more power with greater control than comparable machines to manufacture high quality concrete pipe. In addition, ePak's unique uniframe design makes conventional three and four post frame designs obsolete and delivers smoother and faster operation of all machine components. Plus, the frame's bolted, two-piece construction makes installation into existing buildings easier and lowers shipping costs.
The ePak machine is ideally suited to produce:
Capacity
ePak has tremendous output capability due to its superior power, control technology and fast component travel speeds. In fact, ePak can manufacture up to 100,000 tons per year in a single-shift operation.
Models
ePak 120
ePak 150
ePak 180
Other models available upon request.
ePak
ePak 120
ePak 150
ePak 180
Product Dimensions
300mm to 1200mm diameter (10" to 48" diameter)
300mm to 1500mm diameter (10" to 60" diameter)
450mm to 1800mm diameter (18" to 72" diameter)
Product Lengths
0.25m to 2.5m (1' to 8')
0.25m to 2.5m (1' to 8')
0.25m to 2.5m (1' to 8')



Smaller diameters can be achieved with an extra packer shaft.


Products longer than 2.5m are available upon request.





ePak Machine Key Advantages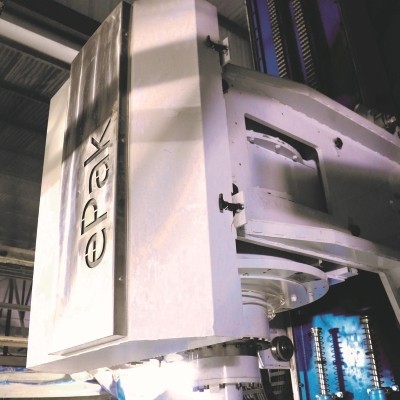 Powerful Packing Action
The ePak's rollerhead drive generates more power than conventional drive systems.
Wider torque/speed operating band allows precise packing control throughout the entire range of pipe diameters.
Directly driven by two, 60-pole permanent magnet motors, no gearboxes are required. This significantly reduces maintenance and noise emissions.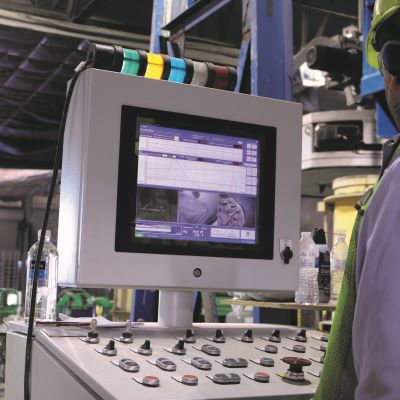 Precise Production Controls
Compared to other machines, ePak has the most sophisticated control hardware and software algorithms in the precast concrete industry.
Closed-loop controls continously provide feedback to the PLC on all parameters.
Strategically positioned video cameras ensure product quality and consistency with real-time production cycle information.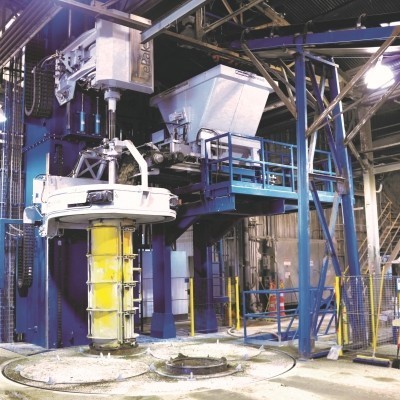 Fast and Smooth Travel Speeds
The main drive, toptable, and bellpacker are cantilevered to continually bear and smoothly roll on the ePak's unique main frame. Consequently, shaking and vibration are lessened minimizing wear on components.
The ePak has up to 25% faster component travel speeds than conventional machines and dramatically reduced machine alignment issues, frame vibration, and need for expensive wear parts.
ePak's exclusive frame design is a bolted, two-piece construction for easy shipping (can be loaded in containers) and installation.
The ePak machine features a barcode encoder system for absolute positioning of crosshead, toptable and bellpacker.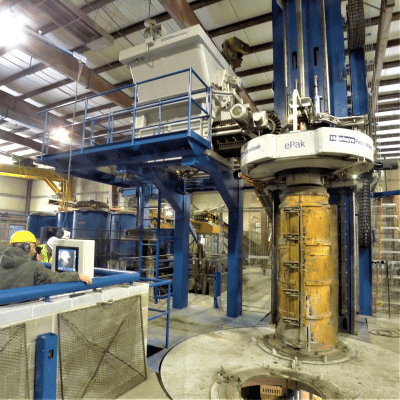 Compact Machine Turntable
Because of ePak's compact, electric-driven turntable, forms can be mounted close to the center point of the turntable. This permits faster rotation speeds. In addition, its electric chain drive eliminates slippage allowing precise ramp-up and ramp-down speeds as the molds enter the filling and offbearing positions.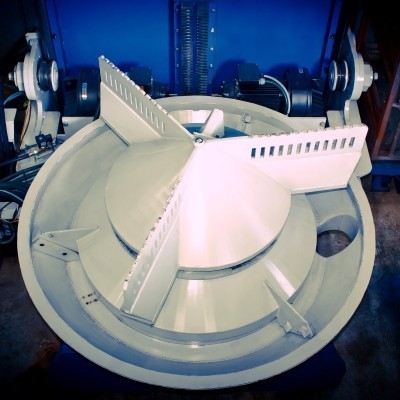 Dense Bell Consolidation
ePak's advanced bell packer with dual self-synchronizing vibrators delivers powerful vertical vibration impact which quickly and effectively consolidates the pipe bell.
Powerful electric 11000 vibrators of proven durability and reliability along with electric rotate and hoist functions permits smooth , low-maintenance operation.
ePak's self-cleaning top directs excess concrete to a central discharge point for easy cleanup.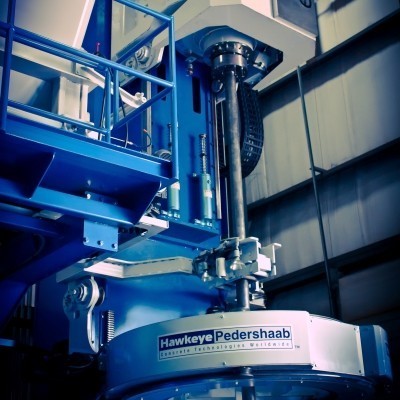 High Performance Tooling
Best of all, ePak works with state-of-the art HawkeyePedershaab tooling or existing tooling of other makes and brands. The ePak rollerhead drive system is configured to run both bi- and uni-directional tooling. An added feature is segmented trowels made of a special, wear-resistant alloy.