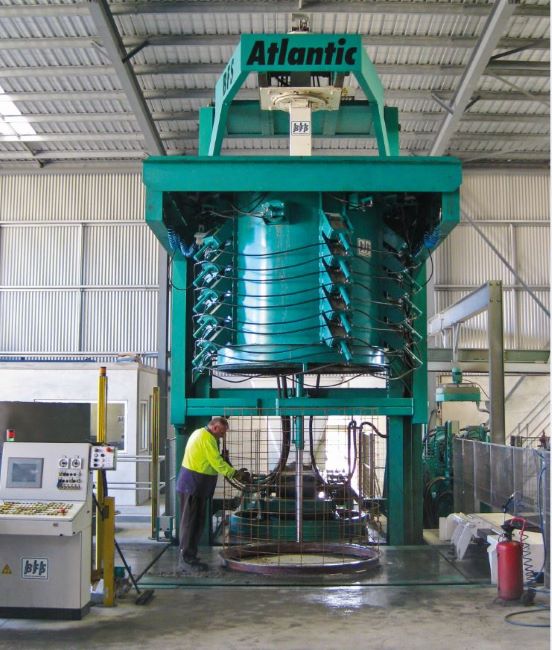 Afinitas' BFS Atlantic offers highly efficient production of premium-quality concrete manholes and pipes. With its extremely short cycle times (starting from 45 seconds!), the two carriage system for direct demolding ensures high product output. Furthermore, the modular system, for single or double production,  requires a small footprint and can be customized to meet specific needs.
The Atlantic machine is ideally suited to produce:
Capacity
Depending on the machine model, a typical Atlantic plant offers an annual production capacity of up to 70,000 tons of product/year.
Models
Atlantic 1500
Atlantic 2000
| Atlantic | Atlantic 1500 | Atlantic 2000 |
| --- | --- | --- |
| Product Diameters | 300mm to 1500mm (12" to 60") | 300mm to 2000mm (12" to 78") |
| Product Heights | 100mm to 2500 0mm (4" to 98") | 100mm to 2500 0mm (4" to 98") |
| Product Lengths | up to 2500mm (8') | up to 2500mm (8') |
BFS Atlantic Machine Key Advantages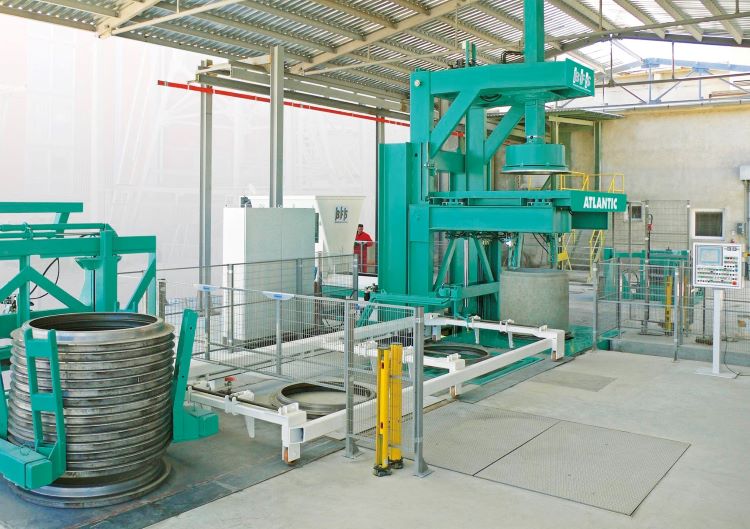 Simple to Operate

With the BFS Atlantic, the system does the work. Whether using single (Atlantic Mono) or double (Atlantic Duo) production, the machine does not require highly skilled labor and can be operated by one person. Here's how it works:
From the base pallet magazine, the pusher system moves one pallet to the release agent spraying station and next into the concrete casting position.
The generously-dimensioned hydraulic aggregate with state-of-the-art proportional valve technology ensures output reserves, operational reliability, and fast cycle times. The clear structure of the modules enables simple, quick maintenance.
Concrete compaction is performed by a central vibrator with hydraulic mold core clamping. The frequency-controlled direct drive is powered by dynamic electric motors with a large RPM range. BFS technology ensures a maximum application of vibration forces to the mold equipment with minimum noise.
After demolding, the products are automatically transported out of the production machine for curing with a computer-operated BFS Robotrac system or by the agile BFS electric trolley.
During curing, the spigot-end ring remains on the concrete products, resulting in high dimensional accuracy and roundness of the spigot- end profile.
Afinitas helps you add more automation to your production flow:
See More Atlantic Machines