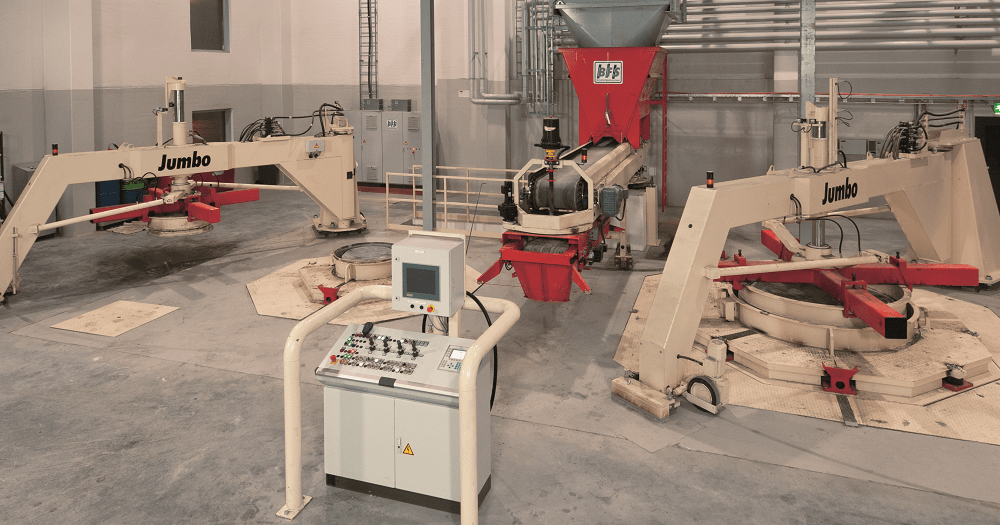 Afinitas knows a versatile piece of a equipment can be invaluable to your operations. That's why  the BFS Jumbo has become a trusted machine for the production of reinforced and non-reinforced concrete pipes and manholes up to 4000mm (12′) diameter. In addition, the Jumbo also produces manhole products such as manhole rings and base units.
The Jumbo can produce almost any infrastructural product, including:
Capacity
Depending on the machine model, configuration, and the products being manufactured, the Jumbo can produce from 35,000 to 100,000 tons of product annually.
Models
Jumbo RL1500
Jumbo R2000
Jumbo R2500
Jumbo R3000
Jumbo R3600
Jumbo R4000
BFS Jumbo
BFS Jumbo RL1500
BFS Jumbo R2000
BFS Jumbo R2500
BFS Jumbo R3000
BFS Jumbo R3600
BFS Jumbo R4000
Product Dimensions
300mm (12") to 1500mm ( 60") diameter pipe
1100mm x 1100mm (42"x 42") max. square
700mm x 1400mm (32" x 56") max. rectangular

300mm (12") to 2000mm ( 78") diameter pipe
1500mm x 1500mm (60"x 60") max. square
900mm x 1800mm (36" x 72") max. rectangular

300mm (12") to 2500mm ( 98") diameter pipe
2000mm x 2000mm (78"x 78") max. square
1200mm x 2400mm (48" x 96") max. rectangular

300mm (12") to 3000mm ( 120") diameter pipe
2500mm x 2500mm 98"x 98") max. square
1600mm x 3000mm (64" x 120") max. rectangular

300mm (12") to 3600mm ( 142") diameter pipe
3000mm x 3000mm (120"x 120") max. square
1800mm x 3400mm (72" x134") max. rectangular

300mm (12") to 4000mm (156") diameter pipe
3400mm x 3400mm (134"x 134") max. square
2800mm x 3800mm (112" x150") max. rectangular
Product Lengths
up to 4000mm (40')
up to 4000mm (40')
up to 4000mm (40')
up to 4000mm (40')
up to 4000mm (40')
up to 4000mm (40')
BFS Jumbo Machine Key Advantages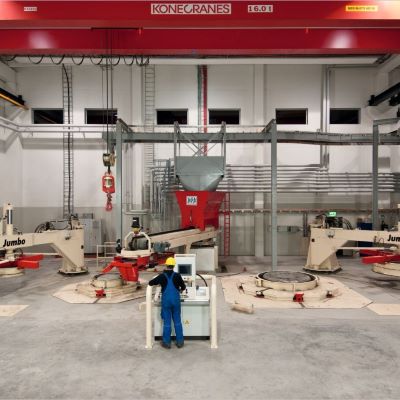 High Quality Concrete Products in All Sizes

While the BFS Jumbo is ideal for producing reinforced and non-reinforced concrete pipe, the machine also allows for quick changeovers to produce almost any concrete product.  Here's a brief overview of how the Jumbo system is able to maintain consistent levels of quality no matter the product size.
The rotating concrete feeding unit of the Jumbo together with rotating distribution conveyor belt efficiently transports concrete into the mold.
A frequency-controlled drive handles the uniform filling of the concrete to ensure optimal distribution for the specific concrete products being produced.
A central vibrator that contains several vibrator units, depending on concrete pipe length, gives intensive and continuous compaction.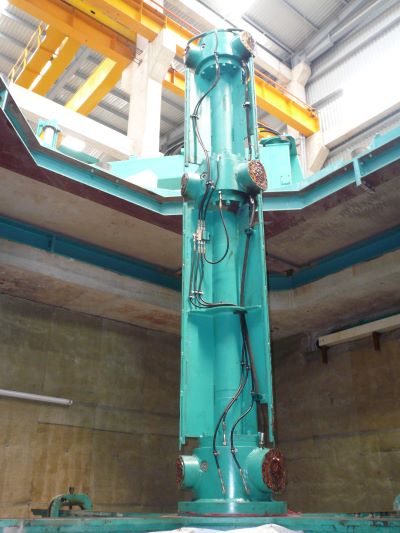 Powerful Central Vibration

There are many advantages to Jumbo's multi-level central vibration system, including:
Hydraulic-quick-clamping system in every vibrator for fast conversion
Modular construction system for vibrator units for production of different concrete pipe lengths and optimal adaptability to the products
Generously calculated vibration forces and a standard number of revolutions of 4200 rpm guarantee intensive concrete compaction
Additionally equipped with a frequency converter or a frequency regulator for optimizing the concrete quality
Maintenance-friendly grease lubrication makes the process easy, reliable and problem-free
Vibration cross: rigid with quick clamping system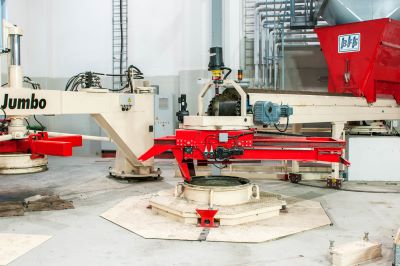 BFS Concrete Feeding System Options

Feeder with rotating feeder belt is a standard concrete feeding system available with CNC feeding track control, laser filling system and remote control
Feeder filling system with filling box and rotating distributor star. This system is for manhole base and septic tank rings that are fast filling without a cage.
Combi-feeder with cross movement. This is an exchangeable filling system filling box and rotating belt.
Feeding unit with rotating chute and scraper.
Feeder with height-adjustable distributor star designed for manhole and manhole base production.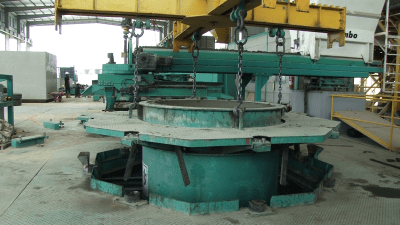 Quick Changeovers with Jumbo

BFS Jumbo change-overs to concrete elements in different lengths can be accomplished in minutes utilizing a lifting frame with stable guiding columns and quick connectors to enable fast height adjustment.
Quick clamping device for inner mold/vibrating cross
Spigot former quick release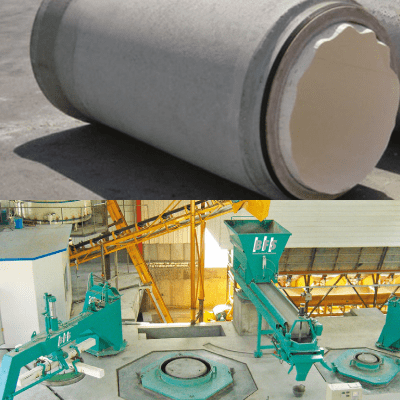 Manufacturing Options – BFS Jumbo Liner, BFS Jumbo Duo

Our Jumbo Liner system enables the production of PVC and HDPE-lined products, while Jumbo Duo combines the power of two Jumbos into one system for maximum production output.  Furthermore, with Jumbo Duo you can produce two different products simultaneously, optimizing your daily output.
Afinitas helps add more technology to meet your requirements:

See More BFS Jumbo Machines
"The simultaneous production with two wet-cast molds that differ in size and shape enable daily production to be increased"
Read Case Study