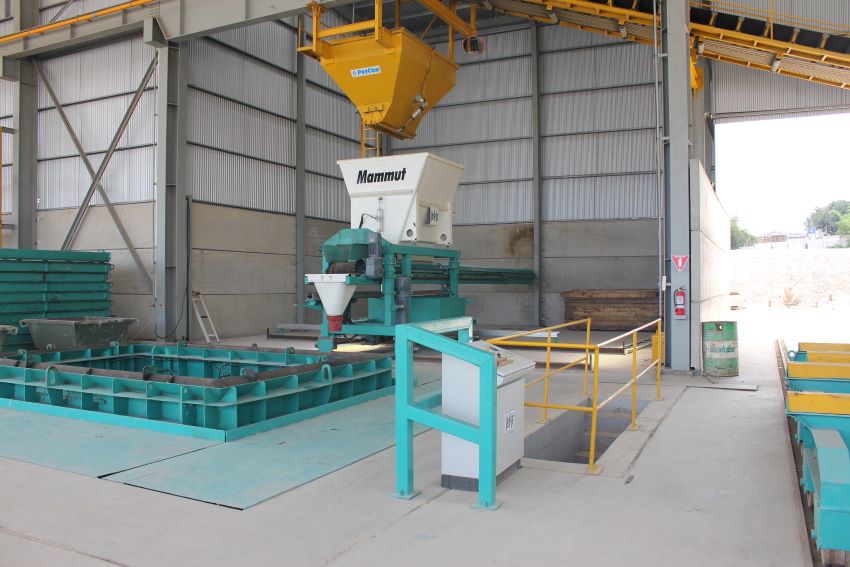 Through our Afinitas brand BFS, we bring you the Mammut,  a high-performance, robust powerhouse for the production of box culvert products and other large-size concrete elements with perfect dimensional accuracy and ultra-clean product surfaces. The BFS Mammut features powerful vibrating table technology. This innovative vibration technology ensures streamlined manufacturing and temperature-resistant vibrators, with external central electromotor drives that are low maintenance even under the toughest climate conditions.
The Mammut machine is ideally suited to produce:
Capacity
Depending on the machine model, a typical Mammut plant offers an annual production capacity of up to 100,00 tons/year.
| BFS Mammut | | | | | | | | | |
| --- | --- | --- | --- | --- | --- | --- | --- | --- | --- |
| Table size (standard) | 2000mm x 3000mm (78" x 120") | 3000mm x 4000mm (120" x 160") | 4000mm x 5000mm (160" x 198") | 4000mm x 6000mm (160" x 236") | 5000mm x 6000mm (196" x 236") | 5000mm x7000mm (198" x 276") | 5000mm x 8000mm (198" x 316") | 5500mm x 7400mm (218" x 290") | 6600mm x 8500mm (260" x 336") |
| Max. box size (outside dimensions) | 2000mm x1400mm (78" x 56") | 1400mm x 2400mm (78" x 96") | 2400mm x 3400mm(78" x 134") | 2400mm x 4400mm (78" x 174") | 3400mm x 4400mm (134" x174") | 3400mm x 5400mm (134" x 214") | 3400mm x 6400mm (134" x 252") | 3900mm x 5800mm (154" x 228") | 5000mm x 6900mm (198" x 272") |
| Max round incl. mould | 2000mm (78") | 3000mm (120") | 4000mm (160") | 4000mm (160") | 5000mm (198") | 5000mm (198") | 5000mm (198") | 5000mm (198") | 5000mm (198") |
| Length up to | 2500mm (98") | 2500mm (98") | 2500mm (98") | 2500mm (98") | 2500mm (98") | 2500mm (98") | 2500mm (98") | 2500mm (98") | 1200mm (48") |
BFS Mammut Key Advantages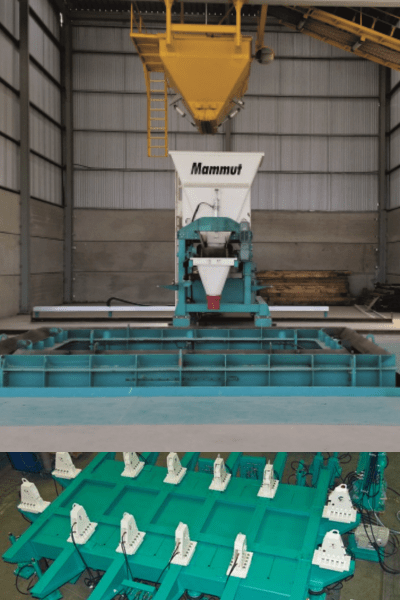 Streamlined Operations

The BFS Mammut's powerful vibration technology allows highly efficient production of large-format rectangular pipes and other products by vibration table method. Here's how Mammut works:
The prepared reinforcement cages on the base pallets are collected via crane by the mould jacket and placed into the system over the core.
With stable hydraulic clamping jaws, the jacket (including base pallet) is braced to the very stable, rigid vibration table, where a pneumatic-controlled leveling system is used.
The electric vibrator is controlled by a frequency converter. Force can be easily adapted between 0 and 100%.  The vibrator's frequency converter requires no hydraulic fluid, which means no oil cooling or leakage.
After the production process is completed, the jacket, including base pallet, product and spigot end shaper are gently lifted, ensuring maximum dimensional accuracy and allowing the box to be stored for curing.
When the clamps between the jacket and base pallet have been released, the jacket can be lifted and is available for the next cycle.
To optimize the spigot end, the spigot end shaper remains on the fresh product for a defined period of time.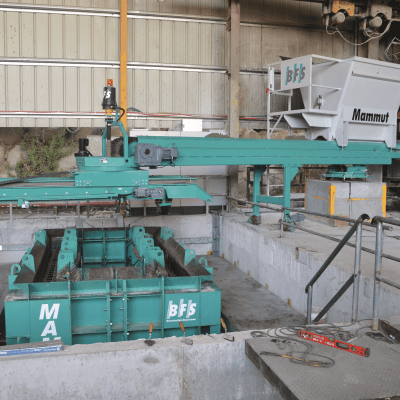 CNC Controls Ensure Accuracy

The hopper of the concrete feeder is filled via a conveyor belt or traveling bucket. The BFS Mammut's CNC-controlled system precisely follows the respective product geometry, while the exact interaction between the pre-programmed control of the feeding quantity and the integrated laser measuring system guarantees  a uniform mold fill level. Achieving optimal, uniform compaction requires no manual intervention by the operator as the contour control and frequency-controlled vibration are completely guided by the CNC.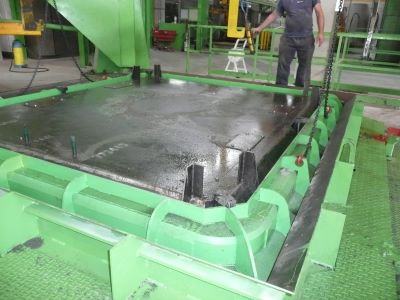 Spigot End Customization

The Mammut system allows customized designs to be created for the spigot ends which are shaped under vibration by eight hydraulic clamping cylinders integrated in the core. This production step is completely automated and all parameters can be selected via an integrated touch screen.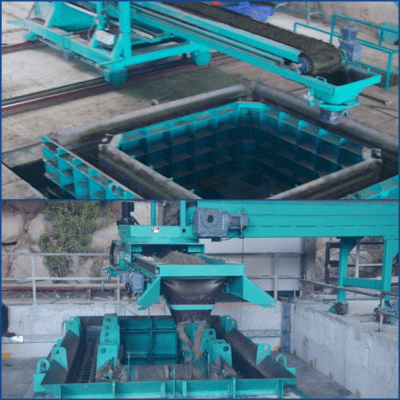 Concrete Feeding System Options
The Mammut offers two different types of feeding systems:
Linear feeding (x/y) for very large concrete products and dual-box production (top photo)
Swivel feeding with rotating discharge belt and CNC contour control (bottom photo)
Both concrete feeding systems can be equipped with laser fill height controls.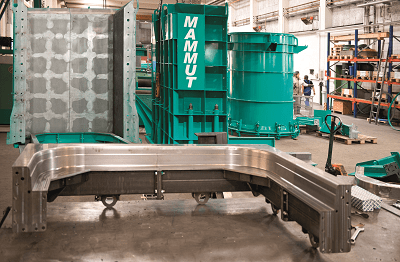 Flexible, Affordable BFS Modu-Mould

This modular mold system allows different components to be combined in a wide range of mold dimensions. Mold cores, jackets, base pallets and spigot end shapers are all part of this homogeneous system that reduces your investment costs and increases production flexibility.
"The machines are easy to operate and maintain, they're reliable and they make little noise."
Read Case Study