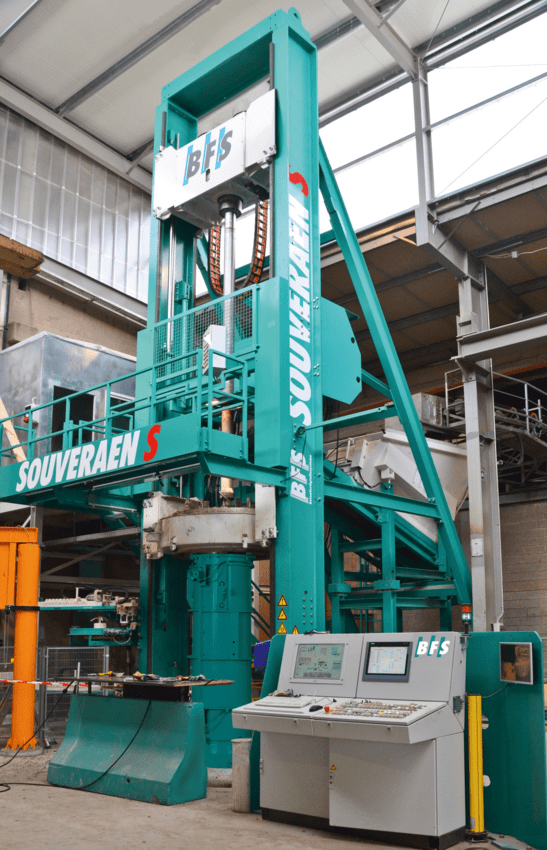 Afinitas brings producers a powerful Packerhead Machine offering with the BFS Souveraen system. The Souveraen is known for its high manufacturing quality using minimal manpower. The Souveraen design ingenuity uses counter-rotating, multilevel roller-head compaction tools operated by an advanced, high-tech control system. With only one (1) operator, Souveraen produces reinforced- and non-reinforced concrete pipes at a very high level in accordance with international standards.
The Souveraen machine is ideally suited to produce:
Capacity
Depending on the machine model, a typical Souveraen plant offers an annual production capacity of 90,000-100,000 tons of product per year.
Models
SV 1225
SV 1230
SV 1235
SV 1625
SV 1630
SV 1635
| BFS Souveraen | SV 1225 | SV 1230 | SV 1235 | SV 1625 | SV 1630 | SV 1635 |
| --- | --- | --- | --- | --- | --- | --- |
| Product Lengths | 2,5mm (8') | 3,0mm (10') | 3,5mm (12') | 2,5mm (8') | 3,0mm (10') | 3,5mm (12') |
| Product Dimensions | 300mm to 1200mm diameter (10" to 48" diameter) | 300mm to 1200mm diameter (10" to 48" diameter) | 300mm to 1200mm diameter (10" to 48" diameter) | 300mm to 1600mm diameter (12" to 64" diameter) | 300mm to 1600mm diameter (12" to 64" diameter) | 300mm to 1600mm diameter (12" to 64" diameter) |
BFS Souveraen Machine Key Advantages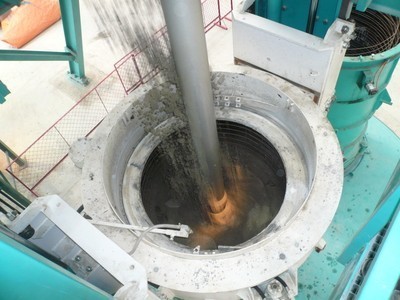 Proven Compaction Control – Souveraen S-Feed

The  S-Feed weight compaction control system distinguishes the BFS Souveraen  from all other packerhead machines. The amount of concrete needed for compression is calculated in advance by the carefully designed process control system and is fed in precise quantities and rates to ensure uniform concrete compaction throughout the pipe production process. The result is a consistently high concrete quality from the socket to the spigot.
Even compaction throughout the entire pipe length
Repeatable product quality
Minimal concrete overfilling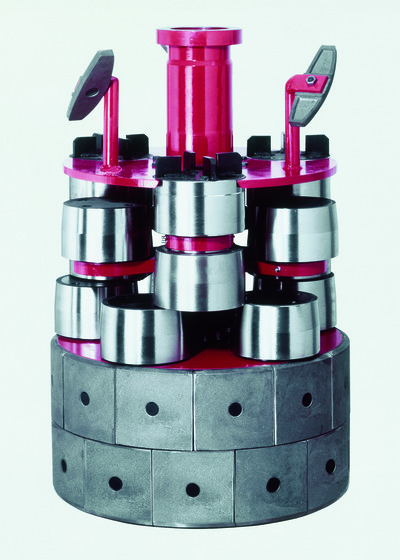 Patented Compaction Tool – Souveraen S-Compact

Souveraen's roller-head technology is comprised of multi-level rollers, guaranteeing universal compaction. Due to the counter rotating movement, the reinforcement cage is perfectly embedded by the concrete and twisting of the cage is minimized.
Highest concrete compaction for the best concrete at low water/cement ratios
Excellent compaction and molding of the bell section
High tolerance toward concrete mixtures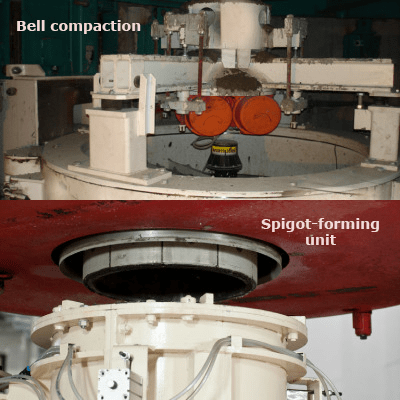 Compaction Options – Souveraen S-Compact

With the Souveraen you have options, especially with regard to compaction features. Two other systems are available:
The bell compactor equipped with two frequency-controlled vibrators and a rigid turning unit has the compacting power of 6 tons. This system operates using three periods of vibration with three  different frequencies, programmable to reach optimum compaction.
The Spigot-forming unit operates by separating the formation and fixation functions which leads to a dimensionally precise and low-maintenance formation of the spigot end. This process reduces wear and tension on the mold and also because the rotational speed is adjustable, it adapts to the specific requirements of the concrete.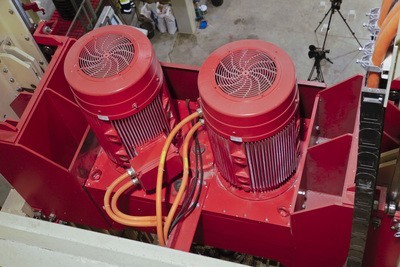 Powerful and Efficient – Souveraen S-Eco

BFS Souveraen's S-Eco maindrive system combines frequency-controlled electric motors with state-of-art spur gear transmission to create exact speeds and a high torque for excellent compaction results. This is an energy-efficient system that operates with minimal noise.
Completely controlled drive system for optimal compaction
Long-lasting drive
High efficiency
Low noise level drive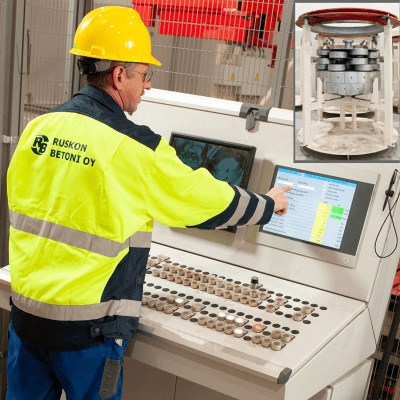 Quick Conversion with Souveraen S-Flex

The Souveraen S-Flex size change system automatically converts all important product parameters with the push of a button. The time-savings allow producers to maximize machine utilization and have more production flexibility. In addition, the system's ergonomically-designed  tools make size conversions quicker and easier to implement.
S-Flex allows you to  change the mold set without conversion problems
Manual adjustments of machine parameters are not required
Quick size set facilitates the preparation outside the machine as well as the quick pre-positioning of the size equipment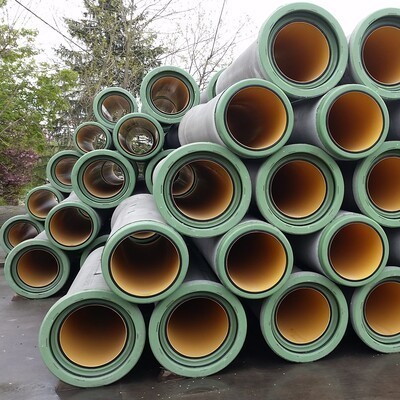 BFS ECORESIST:  Reinforced concrete/polymer-lined pipe

Withthe BFS Souveraen, producers can easily widen their product offering with the integration of the BFS ECORESIST-Liner System for concrete pipes in either a new or existing machine. ECORESIST pipes are continuously lined with an inner corrosion-resistant polymer cover which is tightly secured by a supporting, bend-proof reinforced concrete sleeve. With their polymer-spigot end and bells, ECORESIST guarantees an exact fitting and resistance to shear forces as well as the simplest handling during installation at the construction site.
Resistance to flush force makes ECORESIST the first choice for durable canal systems
Long-life due to stiff outer reinforced concrete layer and corrosion-resistant liner
Integrated seal in bell and polymer-covered pipe ends provides fail safe installation
Afinitas brings you capabilities that help you work smarter.
See More Souveraen Machines